Kyrgyzstan is a great place to ride horses!  Horse riding in Kyrgyzstan is an adventure and a new experience. With spectacular landscapes and vast tracts of undeveloped land, there's no better way to get to the heart of Kyrgyzstan.  Our skilled horsemen and experienced guides work hard to make sure you stay safe and have a good time—listen closely to their instructions, and feel free to ask questions any time!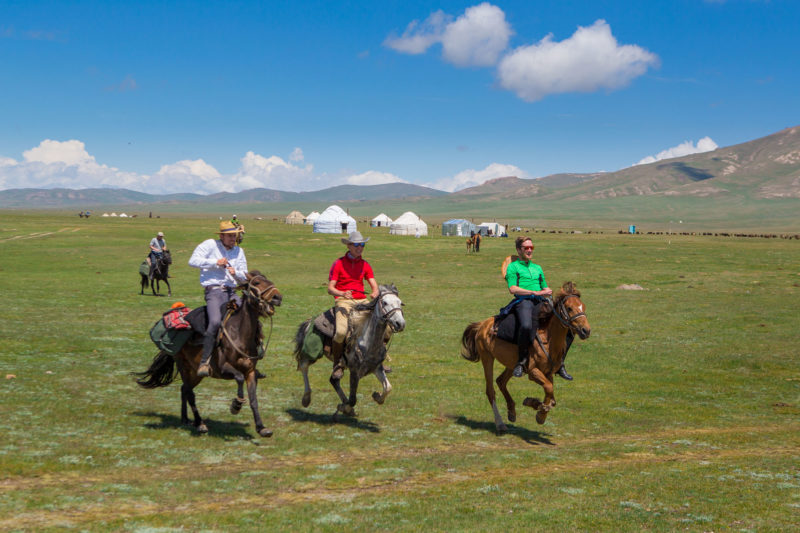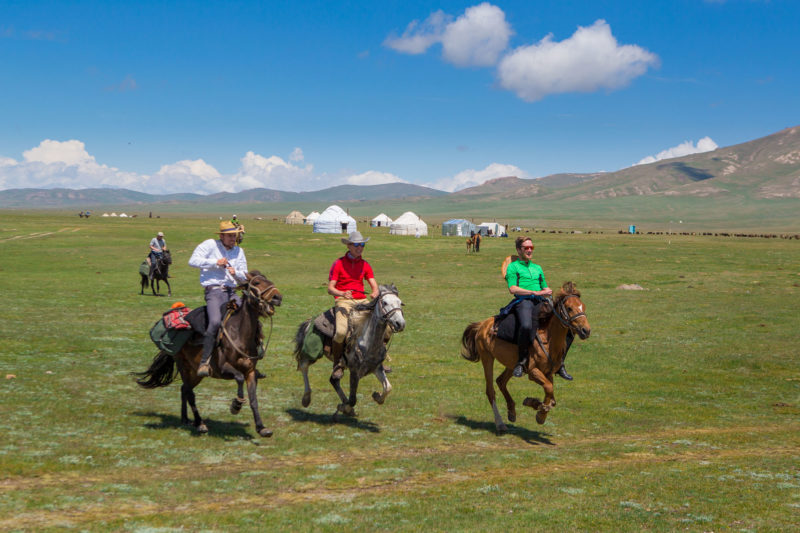 For your ride: Wear closed-toed shoes.  We recommend long pants—bare legs will be quickly chaffed and blistered.  Bring layers to deal with changing weather conditions—riding is not an aerobic activity, you will be at a cooler base temperature than if you were hiking.  Gloves are also a good idea.
If you want to add or remove a jacket layer, tell your guide.  The rustling and sudden distortion of your shape can startle some horses.  The horsemen will know which animals are prone to spook and assist you with the process. Eat well and stay hydrated.  Riding is not aerobic, but it is still a strenuous physical activity.  Chances are you will discover a few new muscles along the way.
You will want to carry a camera with you!  It's beautiful here, and the best views are always from the back of a horse.  Keep cameras, water bottles, or other items securely attached to yourself or your saddle.  Aside from possible damage to your device, mysterious objects falling noisily from the sky can frighten even wise and experienced trail horses.  If taking a photo or a drink, keep one hand on your reins.
Never walk behind a horse.  Horses have two blind spots, one of which is just behind their tail.  Even a gentle horse may kick at an unexpected sound or movement.  It is best to give the rear end of a horse at least 2m berth.  If you have to pass closer, talk out loud and make your presence known. Some horses are grouchy after a day's work, and some are friendly. If you want to pet a horse, the horsemen can direct you towards one which will appreciate the attention.
Horses are highly intelligent animals.  Unlike a bicycle or a car, each one has unique personality traits and motivations and makes independent decisions.  At times, you and your horse may disagree about the best course of action.  The best reaction on your part to any situation is to remain calm and firmly command your animal.
Children are often excited about riding horses!  In Kyrgyz culture, children learn riding and husbandry skills from a young age. We recommend that children be at least 7 years of age for short rides and 10 for overnight trips.  Younger children have a difficult time following instruction, and may not have the physical capabilities to control a horse.  Talk to your guide, and they can arrange to have a smaller child meet and be led on a calm horse for a short "pony ride".
Our horsemen select gentle and experienced horses, which are confident and surefooted on mountain terrain.  They pay close attention to the health and welfare of the animals which support them and their families in their daily work.  Horses have a strong place in the heart of Kyrgyz culture and are admired for their courage and intelligence.  Your horsemen and guides will do everything they can to ensure you and your horse have a great ride!